An Ambulance Driver's
Experiences in World War II
From Omaha Beach to the Malmédy Massacre
by
Howard E. Nixon
6 April 1923 - 29 December 2001
---
We came to Cadillac and Betty met me at the train. How nice. And so glad to see her. She took me home and dropped me off in the driveway. I looked around and then said, "Thanks Lord."
My parents were glad to see me, also Harlan and Billy. All three of us made it back home.
As I look back on that ordeal where so many were wounded and so many died I wonder, "Why?"
I was glad to be part of it. When some of those guys breathed their last breath I wonder if I could have done more, but under the circumstances I guess not.
Betty and I married. Forty years went by. I read about the North Star Invasion Tour that covered the route that I took in the war. Besides Betty and I wanted to see her relation in Sweden. We took the tour.
We flew from Chicago to Amsterdam. They met us there, put us on a bus, and got us rooms. Everything was arranged; meals, hotels, and tours from day to day.
We saw the beach at Omaha. From the bus I saw again the town of St. Lô. And I thought again of the woman at the corner sitting on the pile of rubble with her head in her arms crying. The bus stopped at a red light and I realized that I was at the very same place that I had seen that woman forty years before. From an upstairs apartment a dark haired woman opened a window and watered the flowers enjoying the peace of the day. She would have been the right age. Could it have been the same one? Probably not. The light changed and we moved on.
We went to Paris and again I saw the Eiffel Tower. From there we went to Luxembourg and then the Hürtgen Forest - back to the fox holes. I had come through that battle without a scratch. When we went back through the Forest, Betty stepped on something and hurt her foot. She had to have surgery on it when we got home.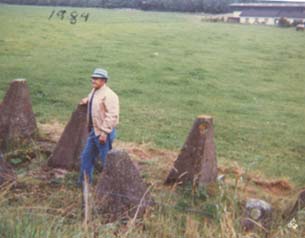 Me at the Siegfried Line in 1984 reflecting
back on all that happened forty years before
We went on to Malmédy and the Battle of the Bulge. We went to where the Malmédy Massacre [Malmedy Massacre] was. There is a monument there now with the names of the soldiers who died there.
I knew what had happened to L. M. Burney the one who took my place when he took a load of wounded for me. I saw his name there I shed a tear and said a silent prayer for the ones who died there.
We went down the road and came on the place where I had turned the ambulance around and went a different direction. It was raining that day in 1984. From the bus window I saw a rainbow at the very spot where I had turned around. I thought again of Psalm 91 and said, "Thanks again Lord."
We went by the corner where the M.P. was directing traffic (The German). I had my picture taken there. A few years later I got information on the same invasion tour. The tour guides said that whenever they had a tour and went by Malmédy where the M.P. was they tell that story about me.
We went on to the Rhine and the Remagen Bridge, but we didn't go across there. We turned and went back to Amsterdam. There they had a celebration in the city honoring all soldiers. You could have heard a pin drop it was so quiet. It was a beautful tour. It brought back memories.
Page 19
Previous Page Next Page
---
© Copyright, Howard E. Nixon, 2001.
Address comments to:
Howard's son Pat Nixon or his daughter Cindy Guernsey at the following email addresss:
nixon748@cox.net nixon748@cox.net or cindyguernsey@chartermi.net cindyguernsey@chartermi.net.
---