An Ambulance Driver's
Experiences in World War II
From Omaha Beach to the Malmédy Massacre
by
Howard E. Nixon
6 April 1923 - 29 December 2001
---
The old ship sounded like it was falling apart. I was down in the bottom by the propeller. Every time the propeller raised up to the top it made one whale of a thumping noise. I saw no other ships, but I did see a school of porpoises swimming alongside.
Once they thought that a German sub was close so they stopped and launched several depth charges. Nothing happened we went on. There was nothing to do on the ship so I stayed on deck most of the time. A lot of men gambled all day long.
Finally we reached our destination called "The Firth of Fourth" in Scotland. A chilly, rainy night and the darn captain had to bring us to attention and march us to our quarters. I think that was the last time I came to attention. I did salute at times though.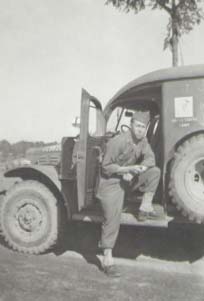 Me with my Ambulance
After a while we got our new ambulances. Mine was brand new - a four wheel drive (and did I need that later) with 5 miles on it. It was a Dodge Power Wagon. My ambulance was #19. Later I wrote "Cadillac" on the side of that old ambulance.
We had three platoons - 1, 2, 3. I was in the first platoon. We had about 20 ambulances. We did our own simple maintenance - oil, grease, etc. We carried 2 extra 5 gallon cans of gas, one on each side of the ambulance.
We had some trips around the English countryside - on the left hand side of the road too. They sent us from Redding to King wood Commons. We stayed there for a while. We stayed in big tents and slept on cots. Seemed like about 8 to a tent. It wasn't too cold, although we had a stove in there that burned coke.
One night a guy got mad at us and dumped water on the coals and sprayed everyone with hot coals. What a hot head he was.
They fed us real good while we were there - mashed potatoes, gravy, chicken, etc. The last good meal I had in one long time.
We had been trained as medics and didn't know what war was like (we thought we did) and I was about to find out very soon.
While we were still in the United States we had time on our hands so we did a lot of marching and how to take order double time, running obstacle courses, and bandaging. We learned how to give morphine shots.
On the long marches we had 25 lb. field packs on our back. There was a lot of sore feet blisters for sure and some dropped out at the first pain.
We also had to stand what they called short arm inspection. We all had to line up in the barracks bare naked as jay birds. It would have been better if we could have had women on one side and men on the other, but no such luck. They used a flashlight and looked for crabs, lice, syphilis, gonorrhea, and whatever. They found them too, because there was always guys playing around. If there was embarrassment it didn't do you no good cause we had to do it anyway.
Page 3
Previous Page Next Page
---
© Copyright, Howard E. Nixon, 2001.
Address comments to:
Howard's son Pat Nixon or his daughter Cindy Guernsey at the following email addresss:
nixon748@cox.net nixon748@cox.net or cindyguernsey@chartermi.net cindyguernsey@chartermi.net.
---