An Ambulance Driver's
Experiences in World War II
From Omaha Beach to the Malmédy Massacre
by
Howard E. Nixon
6 April 1923 - 29 December 2001
---
Another time I got on the wrong road and was in German territory. It was cloudy, no light, no moon or stars to tell which direction I was going. All at once I saw two guys come out of a ditch. They stopped me. They were Americans. They said, "Do you know where you are going?" I said, "No, I sure don't." They said, "Well, we are on patrol and you are in German territory. You will run right into the Germans very shortly. Turn around and get out of here back the way you came." I followed their advice in a hurry.
Once in a while a German or two would surrender to me. They would see their chance to get out of the war and hang back. One time 2 came out of the woods with their hands up. I took them prisoners, but a major came by in a jeep and saw them. He relieved me of the prisoners.
I understand now that the German generals wanted to quit, but Hitler would have no part of it. At the time we didn't know what was going on - only that the Germans were fighting back like Hell.
I have read the book, "Citizen Soldiers," by Steven Ambrose. That book describes the route of the First Army. That was my route from the beach to Czechoslovakia where I met the Russians. After reading that book it brought it out what happened at each place and battle. Then I remembered, "Oh, that's the way it was. I was there."
We were close to Paris now. They put us with the French 2nd Division. They had a few women ambulance drivers with them. They were dirty and unkempt. They just went behind bushes to do their jobs. We dug a slit trench for that for a few days. They had French Moroccans with them and they were wild. We dug fox holes, but they didn't. They asked Old Bruno, "Why do you dig? You afraid to die?" Bruno said, "No, but I don't want to hurry it along any."
They would sleep on the ground with no cover or under an ambulance. One night it rained and I looked out under the ambulance. There were four rows of feet sticking out wetter than sop. One morning I heard a commotion and looked up. Here come a Moroccan with a bayonet in one hand and a calf by the tail going through the field. He finally got him.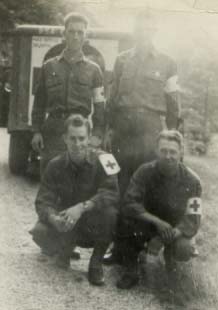 The Ambulance Crew in Paris
Standing - Left to Right:
Lawrence King, Ollie P. Becton
Kneeling - Left to Right:
Bill Chasteen, Howard Nixon
We were the first Americans in Paris. We came in on the 25th of August, 1944. The next G.I.s were to come on the 28th. The French took Paris or liberated it and the Americans went around. The Germans were still there and had to be routed out or captured.
When we went into Paris the streets were filled with people. So many that the convoy had to stop. We drove by the Arc D'Triumph where France's unknown soldier was buried. When the people found out that we were Americans, they mobbed us. If you had a watch on your wrist it was about pulled off. They hugged and kissed us. They put us Americans in a park with walls around, but some girls got in and took pictures of us.
The prostitutes that had fraternized with the Germans got their heads shaved and made to walk down the street naked.
While in Paris we had a guy in our outfit that was a preacher's son. He wouldn't say very much. But in Paris some French gal got him in bed and that was the end of the nice guy. After that he went wild. He was out of control. He cussed a blue streak and started smoking. Years later I contacted Ken Weber from Indiana who told me that when the guy got home at the end of the war, he knocked on the family door while he was smoking a big cigar. Guess what happened. His dad wouldn't let him in. "No son of mine is coming into this house smoking a cigar." I don't know what happened after that.

Page 10
Previous Page Next Page
---
© Copyright, Howard E. Nixon, 2001.
Address comments to:
Howard's son Pat Nixon or his daughter Cindy Guernsey at the following email addresss:
nixon748@cox.net nixon748@cox.net or cindyguernsey@chartermi.net cindyguernsey@chartermi.net.
---