An Ambulance Driver's
Experiences in World War II
From Omaha Beach to the Malmédy Massacre
by
Howard E. Nixon
6 April 1923 - 29 December 2001
---
We went back to Camp Rucker for awhile. There was plenty to do; swimming, wrestling, boxing. We had a Master Sgt. Whitacker was his name. And he was a tough one. But so was Charles Courtney, who we called John Deere, because he was off the farm. These two got into a rough and so they put on the gloves and fought, but Whitacker couldn't whip John Deere.
We stood guard at night and it was in the fall I think - November. And that night it was damp and cold. I had all the clothes I could get on, plus an overcoat, and I don't know as I've ever been as cold.
Well there came a time when they said its about time we go overseas. When we were ready to go a couple of guys did something or ate something to be sick so they didn't have to go and they didn't take them, but took someone else. They were mad.
We went to Camp Kilmer, New Jersey the last of December, 1943. We were there about a week. By this time we were officially the 575 Ambulance Motor Co. We stayed that way from then on all through the war.
We had a couple guys in our outfit; the names were Dilashowich and Shriber. One was Italian. The other was Jewish. And what a pair. They were gamblers. They were always in trouble. Finally when we were over seas they sent them to the infantry. But we got a replacement not much better.
Three of us boys went in the Army. My brother Harlan went to Missouri and was Drill Sgt. He was eventually sent to the Pacific - Guam. I think my brother Billy went to Oklahoma first and then he went to Italy as an artillery spotter.
I once got a ride to southern France to see Billy, but couldn't locate him. I was sent to Europe.
During basic training we had to be spic and span. The beds had to be made perfect, the blankets tucked in and tight enough to bounce a quarter off of it. The foot lockers had to be in line also and we had to be clean shaved and our shoes shined and clothes pressed. On K.P. the tables scrubbed and all cups, plates, and tableware had to be lined up with a string. Well all of that changed over seas in combat to dirt, grime, and blood. We were lucky to get a change of clothes in three weeks let alone every other day. So some of those guys stunk to high heaven but we got the job done.
I went on K.P. in Illinois. I sat there peeling a bushel of potatoes and I got to wondering where they came from. I looked on the sack and it said, "Faye Webster", Tustin, Michigan. Probably some my dad sold him.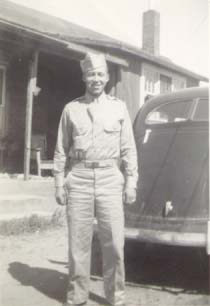 On leave, July, 1943
I came home on furlough before I went overseas. When I went back my father took it kind of hard - his last son going away to war. I never knew my dad really loved me, but when I left he knew I was going over seas and he cried. Then I knew.
Bruce and Wilbur stayed home and worked the farm. I was 20 years old. I saw 35 year old men that couldn't keep up. The stress was too much.
We stayed in Camp Kilmer about a week. Finally they said, "Boys, its time to go. The ship's waiting." The name of the ship was the Aquatania - an old English ship. It was the same ship that Betty's father (Hugh Gardner - my father-in-law) came home on from World War I. We had our duffle bags packed and that's all we could take. Mess kit, shaving stuff, clothes, and a black cover Bible my sister Helen had sent me earlier. (I'll talk more about that later.)
We got on the ship and I stayed on the gang plank. A officer hollered, "Nixon," and I answered, "Howard E." and went down into the ship. What a ship. And what a ride that was. 9 days of rough sailing.
So many men were sea sick. They couldn't get out of their bunks. It never bothered me. I was on deck most of the time in fresh air. There was vomit on the floor. Guys lay flat on their back in the latrine. You had to step over them to get to the urinals. Some men never left their bunks.
The ship's mess floor was slippery and wet from everybody spilling their coffee, food, etc. The closest that I came to getting sick was once I had my mess kit full and the ship lurched. I slid across the floor to the other side into a guy heaving into his mess cup. I guess he was trained not to vomit on the floor. Well, I almost lost it, but I sat down and ate my food. We took some of the guys food that couldn't get up. They didn't eat much.
Page 2
Previous Page Next Page
---
© Copyright, Howard E. Nixon, 2001.
Address comments to:
Howard's son Pat Nixon or his daughter Cindy Guernsey at the following email addresss:
nixon748@cox.net nixon748@cox.net or cindyguernsey@chartermi.net cindyguernsey@chartermi.net.
---